CSPCA Versatility Awards
The purpose of the CSPCA Versatility awards is to present the Chinese Shar-Pei in a positive light to the public and to promote the idea that Shar-Pei can perform a multitude of tasks and do them well.

Eligibility is based on membership in CSPCA as a member in good standing at the time the award is earned.

CSPCA Versatility Rules
Title info needs to be to Paula Perry by the end of July for the awards to be given at Nationals in October.

Requirements Chart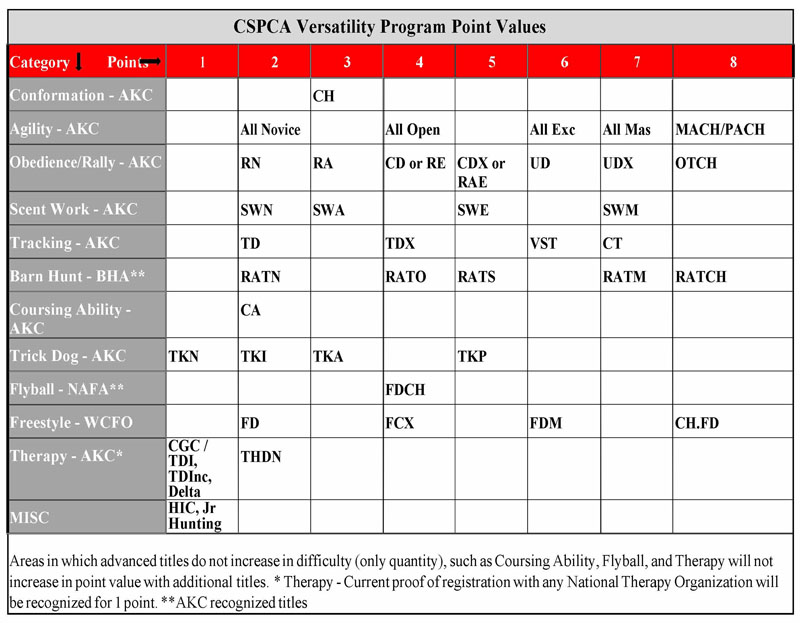 Awards
VSP (Versatile Shar-Pei)  – a title where the dog has accumulated 5 points from any two areas. For completion, the dog will receive a certificate.
VSPX (Versatile Shar-Pei Excellent) – a title where the dog has accumulated 8 points from three areas, one of which must be an advanced beyond beginner or novice level title in performance. Completion of these requirements is a plaque.
VSPCh.(Versatile Shar-Pei Champion) – a title where the dog has accumulated 12 points from four areas and received its AKC Championship as well as advanced titles from two performance events, one of which must be another AKC approved event. A certificate and medallion will be awarded upon completion.
Statement for all Non-Recognized Performance Events

Send all verification to:
PAULA PERRY
PaulaPei@yahoo.com
806-392-4477