Fund Raiser
We invite you to take a look at the items we have for sale in our store front. All of our items sold help our homeless Shar-Pei to cover medical expenses and costs of finding them a home. Thanks for taking a look. Please feel free to share with your friends.
https://teespring.com/stores/csp-rescue-trust-2
We are running a Spring Special right now. For10% off use the code SHARETHELOVE.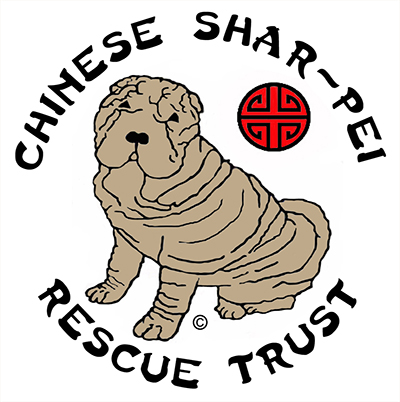 Trust Board Members and Trustees

TREASURER
Anne Baker
9101 S 55th Ct
Oak Lawn, IL 60453
708-425-5002
annebaker55@comcast.net

Trustees:
Sally Fionte, Don Gillett*, Amy Hanrahan,
Kelly Starbuck

* indicates CSPCA Board Member

Rescue Groups – There a many independent CSP Rescue Groups who work with the CSP Rescue Trust, covering most of the United States.
Due dates for Rescue groups to get their stories (pictures with information) submitted to the CSPCA Express Newsletter Editor are as follows:
January Newsletter – Due Date is December 22
March Newsletter – Due Date is February 22
May Newsletter – Due Date is April 22
July Newsletter – Due Date is June 22
September Newsletter – Due Date is August 22
November Newsletter – Due Date is October 22
____________________________________________________
The Chinese Shar-Pei Rescue Trust is always in need of donations to continue helping our homeless dogs. No donation is too small and all donations are appreciated equally. Won't you consider making a contribution to the CSP Rescue Trust today?
Please make checks payable to "CSP Rescue Trust" and mail them to the Trust Treasurer at the above address, or use the PayPal button below.
The CSP Rescue Trust was created in 2019 and is a 501(c)3 nonprofit organization. All Donations are tax deductible.

EIN #82-4910317.


PayPal