The official publication for the Chinese Shar-Pei Club of America.
Barker Editor in Chief
Paula Perry
806-392-4477
barkereditor@cspca.com
Barker Advertising & Sales Editor
Donald Gillett
518-767-2092
Dgill1122@aol.com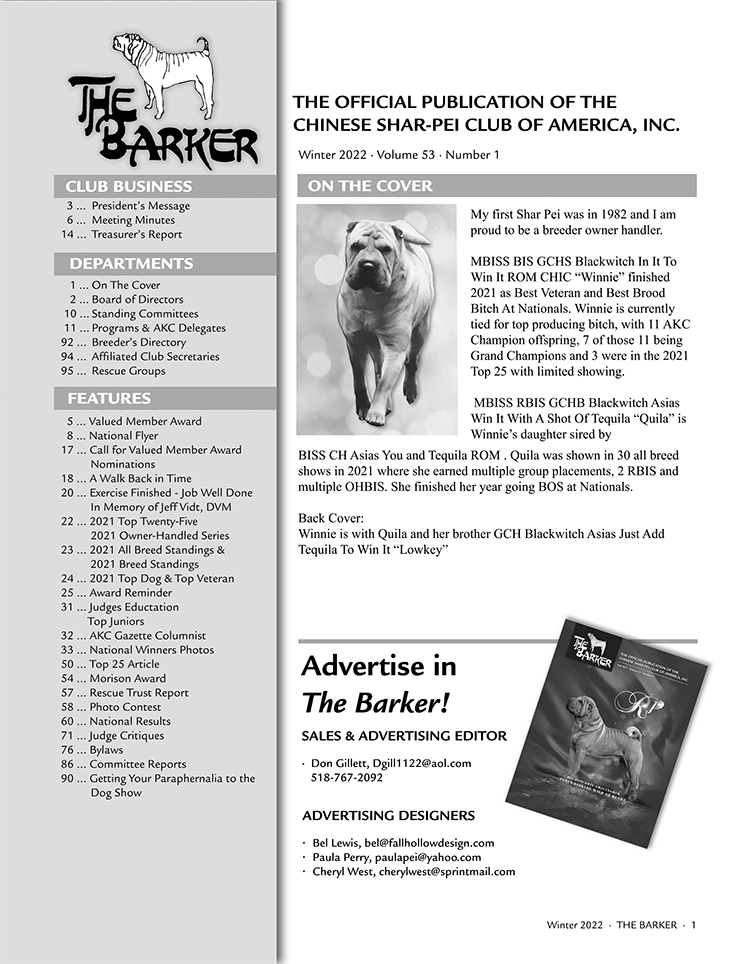 Barker Editor
Alice Fix
303-873-1824
alleydoll3@aol.com
BARKER THEMES – The following themes may be used for each issue; however The Barker welcomes all breed advertisements from our members!
Winter Issue– (January/February/March) – Year in Review National Specialty Deadline-January 1
Spring Issue– (April/May/June) – Veterans & Puppy Prospects Deadline- April 1
Summer Issue– (July/August/September) – Stud Dog & Brood Bitch Deadline- July 1
Fall Issue– (October/November/December) – Rescue, Companion & Performance Deadline- October 1
RATES
Full Page Color $150
Full Page B/W $55
1/2 Page Color $75
1/2 Page B/W $27.50



Front Cover $335
Outside Back Cover $290
Inside Front Cover $200
Inside Back Cover $200
FREE Affiliated Clubs 1/2 Page
Local clubs are entitled to one free half-page black and white ad in The Barker every year. If the club chooses to upgrade their ad to something larger they will get a credit off the larger ad in the amount of the current price of a half page black and white ad.
Design fees apply to all advertising if not submitted as camera ready copy.
*Basic ads – Our designers are Paula Perry and Cheryl West. You will need to contact the ad designer yourself about price, date, and design.

Paula Perry – paulapei@yahoo.com
Cheryl West – cherylwest@sprintmail.com
Please contact: Don Gillett: 518-767-2092, Dgill1122@aol.com to reserve your space in the next issue
Breeder's Directory Advertising
Breeder's directory advertising is available to all CSPCA members for $60.00 per year. Note the expiration date on each listing. Please contact Paula Perry – paulapei@yahoo.com
Scroll Of Honor
These listings honor our departed dogs and are available to all CSPCA members free – printed once a year – deadline December. Please contact – Diana Sprain- dianasprain@yahoo.com
Please contact Paula Perry, Editor (barkereditor@cspca.com) for more information on the Barker, or to submit ideas or articles for publication.