The official publication for the Chinese Shar-Pei Club of America.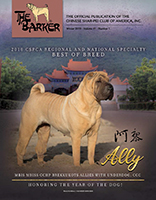 Barker Editor in Chief
Paula Perry
806-392-4477
barkereditor@cspca.com
Barker Advertising & Sales Editor
Donald Gillett
518-767-2092
Dgill1122@aol.com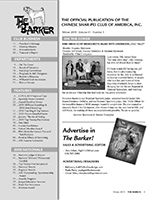 Barker Editor
Alice Fix
303-873-1824
alleydoll3@aol.com
BARKER THEMES – The following themes may be used for each issue; however The Barker welcomes all breed advertisements from our members!
Winter Issue– (January/February/March) – Year in Review National Specialty Deadline-January 1
Spring Issue– (April/May/June) – Veterans & Puppy Prospects Deadline- April 1
Summer Issue– (July/August/September) – Stud Dog & Brood Bitch Deadline- July 1
Fall Issue– (October/November/December) – Rescue, Companion & Performance Deadline- October 1
RATES
$200 Full Page Color
$60 Full Page B/W
$30 1/2 Page B/W
$25 1/4 Page B/W
$15 1/6 Business Card (B/W only)
$15 Litter Announcement/New Champion Or Title Holder/Memorial
$360 Front Cover
$315 Outside Back Cover
$225 Inside Front Cover
$225 Inside Back Cover
FREE Affiliated Clubs 1/2 Page
Affiliated Clubs may choose a full page b/w ad once a year for $40 instead of a free 1/2 page. Call for details
Design fees apply to all advertising if not submitted as camera ready copy.
*Basic ads – $25.00 – more elaborate design will incur additional fees. Our designers are Bel Lewis, Paula Perry and Cheryl West. I understand that I will need to contact the ad design myself about the date.
Bel Lewis – bel@fallhollowdesign.com
Paula Perry – paulapei@yahoo.com
Cheryl West – cherylwest@sprintmail.com
Breeder's Directory Advertising
Breeder's directory advertising is available to all CSPCA members for $60.00 per year. Note the expiration date on each listing. Please contact Georgette Schaefer- ghschaef@gmail.com
Scroll Of Honor
These listings honor our departed dogs and are available to all CSPCA members free – printed once a year – deadline December. Please contact – Vicki O'Neill jihlo@q.com
Please contact Paula Perry, Editor (barkereditor@cspca.com) for more information on the Barker, or to submit ideas or articles for publication.