ELECTION OF OFFICERS AND DIRECTORS
The slate of officers submitted by the
Nominating Committee are as follows:
President- Georgette Schaefer
Secretary- Wanda Woodlee
Eastern Director- Don Gillett
Western Director- Mike Hardy
The three At-Large Directors – Denise Beagle, Larry Harvey, Paula Perry
There are no additional candidates running from the floor. According to the bylaws, since only one person is running for each position, no ballots will be mailed and those running for office will be declared elected, and will take office on January 1, 2020.
ARTICLE V- THE CLUB YEAR, VOTING, NOMINATIONS, ELECTIONS
Section 3. Annual Election; Officers and Directors. The CSPCA will prepare, distribute, receive and count the ballots in a manner that is not in conflict with any other provision of this Article. The vote will be taken by secret mail ballot. The persons receiving the largest number of votes for each position shall be declared elected. Any nominee who receives the largest number of votes and on January 1 is unable to serve for any reason, such nominee shall not be declared elected and the vacancy so created shall be filled by the new Board of Directors in the manner provided in Article III, Section 4. If there is only one qualified candidate for any position that candidate will be declared elected when the results of the election are announced. No balloting procedure will be undertaken.
_________________________________________________________________
Amazon Smile Program
Help Our Organizations Every Time You Shop @ Amazon.com

Amazon has a wonderful program called "Amazon Smile" which contributes 0.5% back to 501(c)3 charitable organizations that have registered with their program. The CSPCA has several organizations affiliated with us that are registered with the Smile program. You can help one of them every time you shop at Amazon.
When you are ready to shop, please go to smile.amazon.com, you need to select one of the following organizations before you begin shopping so they will receive donations from your eligible purchases. You can select a different organization to benefit from your purchases every time you shop. It is just that easy, just that quick! Please share this with all your "non-dog" friends as well.
Please help our organizations and our dogs when you use Amazon by using the Amazon Smile program. Thank you in advance for shopping online. Shop till you drop!
The organizations affiliated or associated with the CSPCA that are participating in the Amazon Smile program are as following:
Chinese Shar-Pei Charitable Trust
Chinese Shar-Pei Rescue Trust
Florida Chinese Shar-Pei Rescue
Mercer Island Eastside Orphans & Waifs- Canine Division
Mid-Atlantic Chinese Shar-Pei Rescue Operation, Inc.
Pei People Shar Pei Rescue, Inc
North American Shar-Pei Rescue, Inc.
Shar-Pei Rescue of Virginia, Inc.
Shar-Pei Savers
If your CSPCA affiliated rescue group currently has an Amazon Smile account and not listed, please let us know so we can include it in our list. We need the name of your group as it appears on the Amazon Smile account. If your group at a later date gets registered for a Smile account, let us know so we can add it to the list when we run this notice again.
______________________________________________________________________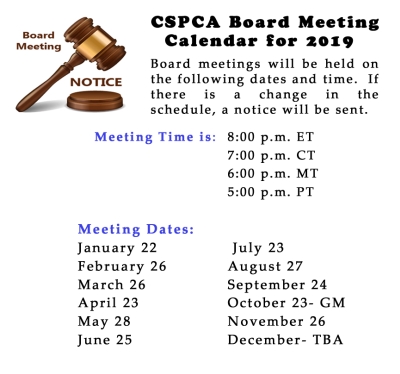 ________________________________________________________________
CSPCA Calendar 2019
January
1 By-laws included in The Barker
Express Newsletter published
Deadline for Non-Camera Ready ads for the Winter (January,February,March)
Barker- Year In Review and National Specialty Issue
15 Deadline for Camera Ready ads for the Winter Barker- Year In Review and National Specialty Issue
22 Board meeting-
February
1 Nominations open for Morison Award
Nominations open for Rescue Awards
22 Deadline for announcements for March Newsletter
26 Board meeting- Vote on New Members listed in January Express Newsletter
March
1 Affiliated Clubs Annual reports due
Express Newsletter published
Nominating Committee appointed by Board (one from each region and two alternates, no more than
one Board Member ) Odd years: President, Secretary, three At- Large, Eastern and Western
Directors Even years: Vice President, Treasurer, three At-Large, Central Director
26 Board meeting
April
1 Deadline for Non-Camera Ready ads for the Spring (March/April/May) Barker-
Celebrating the Old & New – Veterans & Puppy Prospects
Nominations for AKC Delegate are opened in even numbered years. Nominating committee report
due to CSPCA Secretary.
Nominations from the floor are opened.
15 Deadline for Camera Ready ads for the Spring Barker
22 Deadline for Express Newsletter Announcements
23 Board meeting- Vote on New Members listed in March Express Newsletter
May
1 Nominations for Officers and Directors close
Express Newsletter published
28 Board meeting
31 Nominations for AKC Delegate close- (even years only)
June
1 Club Members with individual or family memberships on June 1 are eligible to vote in the upcoming
elections.
24 Deadline for announcements and Notices for July Express Newsletter
25 Board Meeting- Vote on New Members listed in May Express Newsletter
26 Morison Award nominations close
July
1 Deadline for Deadline for Non-Camera Ready ads for the Summer (July, Aug. Sept) Barker-
Stud Dog & Brood Bitch
Express Newsletter published
23 Board Meeting- Vote on Delegate (Even Years)
Ballots go out towards the end of the month for election of Officers and Directors.
Must be a Member in Good Standing on June 1 to vote.*
August
1 AKC Delegate's term begins
15 All awards must be turned in to the Awards Chairman in order to have their awards presented at the
2018 Awards Program
20 Annual Committee reports are due to be received by the CSPCA Secretary.
27 Board Meeting
31 Election ballots must be received by tellers.
September
1 Express Newsletter published
10 Committee Reports Due to CSPCA Secretary
24 Board meeting
October
1 Deadline for Non Camera Ready Barker Ads- Rescue, Companion & Performance
15 Deadline for Camera Ready ads for the Fall Barker
20-25 CSPCA National Specialty Show- Erie, Pennsylvania
23 Board Meeting at Nationals- Vote on New Members listed in September Express Newsletter
(subject to change after Nationals schedule is available)
General Meeting at Nationals
22 Deadline for announcements and Notices for November Express Newsletter
November
1 Express Newsletter published
26 Board meeting
December
15 Applications for Ernest Albright Junior Handler Memorial Grants must be submitted
22 Deadline for Express Newsletter Announcements
*Only those members with Individual and Family memberships are eligible to vote in our elections. Associates and Foreign Memberships are not eligible to vote.
_______________________________
CLEFT LIP OR PALATE RESEARCH PROJECT
Hello,
I am writing to request your assistance for a research study to investigate the incidence of orofacial clefts (cleft lip, cleft palate, or both) at birth in various breeds of dogs. This study is being performed by professor Santiago Peralta, DVM, DAVDC, and other colleagues in the Department of Clinical Sciences at Cornell University's College of Veterinary Medicine.
We would like to anonymously survey breeders to determine how many live births of dogs with cleft lip or palate occurred in their breeding programs over a 12-month period. We are asking breed parent clubs and associated foundations for help distributing the survey and encouraging breeders to participate.
Here is a link to the survey:
https://cornell.qualtrics.com/jfe/form/SV_eFjjygwfW7atWIJ
Please let me know if you are interested in participating or if you have any questions. Dr. Peralta can be contacted via email at sp888@cornell.edu. Any suggestions on how you think this would be feasible for the organization you represent would be most welcome.
Thank you very much for your attention. My collaborators and I all look forward to working with you.
Best regards,
Nicholas Roman, MA
DVM Candidate
Cornell University College of Veterinary Medicine
(630) 843-1438